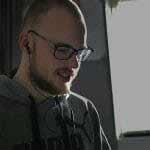 Marnix Buijs
Blogger, Freelance Content Writer/Marketer and Online Entrepreneur
As a blogger, my goal is to help millions of people to live their life on their terms by completely accepting themselves. Accepting themselves by looking inside, looking at all the good, the bad and the ugly. I believe that no human being is perfect, and shouldn't have to be for that matter. As long as you continuously try to get closer to the best version on yourself, you are on a journey to success in life. Success may mean different things to different people. The goal should always be to strive to be balanced in life, to develop every single one of the areas of life.

As a freelancer, my goal is to help every company that's willing to work with me to spread their 'message'. I believe every business has something valuable to add to this world. And through all the crap that's on the internet these days, it can be hard to get noticed. This is where I come in and make sure the people who need to hear the message will hear it. By utilizing different marketing strategies I constantly experiment with, I make sure the results will happen.

I've been interested in entrepreneurship since the age of 13, and I'll never get bored of it. Business is like a game for me. But I like it the most to build something up from the ground and get it going. It's the challenge to it that makes it fun for me. While my primary goal is to serve others through my blog and freelancing business, my entrepreneurial ventures are more for my financial freedom. To live the life of a digital nomad has always been a dream to me.