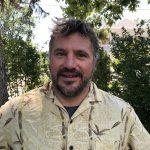 Brad Marshall
Brad Marshall is the author of the Blog Fire In A Bottle, the author of The SCD1 Theory of Obesity and the creator of The Croissant Diet. Mildly obsessed with food and its history, his work focuses on trying to place current ideas about diet, including keto and carnivore diets into the framework of traditional Dietary patterns. For instance, the French diet before 1970 combined flour, sugar, butter and wine and the population was lean

Brad wrote The ROS Theory of Obesity which posits that ROS generation in the mitochondria of fat cells could provide the mechanism that explains why a traditional chinese peasant diet - low fat with 85% of calories from starch; a French diet combining butter, wine and flour and a modern keto diet could all be expected to produce leanness but combining flour with polyunsaturated fats is a recipe for obesity. The core idea comes from the Protons thread of Peter Dobromylskyj's blog Hyperlipid. Brad tested this hypothesis with his dietary experiment The Croissant Diet. The SCD1 Theory of Obesity is the second part of the theory. It deals with the composition of stored body fat, which gets blended with dietary fat before being burned in the

Brad is also the founder of Firebrand Meats, which is dedicated to producing pork and poultry products that are low in Linoleic acid, the n6 polyunsaturated fat (PUFA) whose intake has seen a dramatic worldwide increase in the last century. Animals cannot make PUFA and so we can create pork and chicken that is nearly free of them. You are what your animals eat. Brad has 15 years of experience raising pastured hogs, cutting pork in the butcher shop and seeing the difference that pig feeds and pig genetics make on the ultimate fat quality.

Brad has a genetics degree from Cornell, a certificate from The French Culinary Institute, has studied cancer at Memorial Sloan-Kettering Cancer center and worked as a programmer for the Berkeley Drosophila Genome Project and the Gene Ontology consortium.

---

My name is James. I'm 35 male 6'6 and I am currently 247lbs down from 270 starting at June 2020 when I started the TCD I had lost 5lbs before this just excercizing. I've struggled with weight essentially my whole life, yo-yo'ing up and down as heavy as 355lbs and as far down as 260 with doing lots of cardio and lower carb.

---

I'm Katie, a 6 foot tall, 54 year old female. I have been through just about every diet protocol that exists, including 14 years of mixed vegetarianism and veganism. Bringing back meat protein was the first step in the right direction, years ago, and I was able to use calorie restriction in the form of alternate-day-fasting to get to an acceptable size 16, which was down from a post-pregnancy largest size of 22

---

March 2020 I read about the croissant diet. It intrigued me because it originated from a mouse study and the "inventor" of the diet sounded like an out of the box nerdy guy and I have a soft spot for that way of thinking. So I did. And I lost 7 kilo's.
Recent Articles
April 14, 2023
April 14, 2023
April 14, 2023
April 14, 2023
April 14, 2023
April 14, 2023
February 14, 2023
February 14, 2023
January 10, 2023
August 4, 2021

---

Total Articles: 14
Recent Forums
---
Total Forums:
Recent Replies
---
Total Replies:
No achievements found.