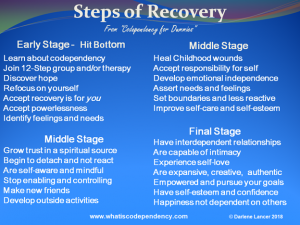 The overall goal of codependency recovery is to become a full-functioning individual. That entails knowing, valuing, and trusting yourself, and expressing yourself in your life and relationships. It involves a complete makeover that impacts what you believe and how you think, feel, and act. (See Stages of Codependency and Recovery.)
Codependency untreated follows the same chronic, systemic decline as does alcoholism and a disease — why some consider it to be a disease. Below is an outline of the progression of codependency symptoms and signs of recovery.
Early Stage of Codependency and Recovery
The early stage of codependency begins with becoming attached to another person and ends with an unhealthy dependency on him or her. Once you start recovery, the early stage ends with beginning to reclaim yourself.
The Disease Process
You might be attracted to a needy person or be overly-involved with a family member and naturally want to help or please him or her. Gradually, you become increasingly emotionally dependent upon and obsessed with that person to the extent that you lose focus on yourself and start to give up personal friends and activities.
The Early Stage of Codependency
· Attracted to needy person; offers help, gifts, meals
· Attempt to please the person
· Obsessed with the person and his or her behavior
· Rationalize and doubt own perceptions
· Denial about codependency and addiction or relationship problems, but concern grows