Beyond Advertising
Relationship Development and Transformation Magazine's marketing strategy combines a mix of result-driven programs that are proven to be one of the most effective and highest-performing campaigns not offered elsewhere. Using as few or as many elements as needed in the marketing mix, your company can deliver a message in a way that is striking and unforgettable. RD&T readers will be compelled to move forward.
RD&T delivers to advertising partners the most efficient and highest performing outlets to reach their target audience. Our sales team is dedicated to increasing your ROI by optimizing your campaign and generating the best results. Our passion for what we do is unparalleled, our unique culture inspires service beyond advertisers' expectations, and most importantly, our high-impact, result-driven interactive programs are unequaled.
Producing results isn't just a phrase or a few words to us. We live and breathe it as if our lives depend on it. Spending your marketing dollars wisely to ensure a proper return on your investment is the key to our mutual success. Our strategic guidance strives to align corporate positioning with corporate messaging. From market strategy to brand development, we focus on turning objectives into plans. The RD&T team matches the message to the medium, choosing from traditional and nontraditional vehicles to reach the target audience and drive maximum impact. And most importantly, our integrated campaigns are supported by an analytics metric system that allows us to optimize the campaign, generate sales leads, and increase ROI.

---
MEDIA KIT
We at RD&T strongly believe that you will find our advertising options unmatched. Our online campaigns have proven to be the best mix of our integrated and interactive programs, and we are confident that you will see the great value offered to you by RD&T Magazine. Let us help you create a custom-built program and deliver your message in a way that is both striking and unforgettable.
Consolidate Your Marketing Efforts and Let RD&T Magazine Help
Decrease your spending and increase your share of voice
Minimize your risk by guaranteeing results – RD&T will continue to run your campaign
until you are completely satisfied
Achieve greater media efficiency with our rate protection policy
Maintain continuity to sustain awareness with RD&T's Value-Add Programs
Maintain significant editorial presence – let RD&T Magazine be your PR partner with our special effective PR programs
Create banner units and reduce your creative or production cost
Media Kit Request
Digital Interactive Online Advertising
Mobile Advertising
Tablet Advertising
---
If you have any questions, feel free contact Destini Ferguson, Sales Director at [email protected]
---
EDITORIAL MIX
Relationship Development & Transformation Magazine (RD&T) is the premier and only online publication bringing together the greatest minds in the field dedicated to lifelong relationship success. RD&T is the authority and primary source for success in all aspects of our lives: health, fitness, financial freedom and relationships.
RD&T's editorial mix is not limited to interpersonal relationships but will address all relationship topics using a more global approach. RD&T will cover the most comprehensive conflict management techniques and explore the new frontiers of relationship success − with your life partner, children, family, co-workers, God/life, society and yourself. We will discuss all the principles that dramatically enhance your life and our world.
RD&T Magazine is much more than a magazine! We are a guide to relationship certainty. At RD&T, we are invested in providing our readers with the key ingredients to always inspire, educate, empower, guide, and enable them to explore their own personal journey to success.
Editorial Sections & Topics
Editorial Sections:
The Ultimate Relationship: Personal Development
Finding Your Life Partner
Relationship with Your Life Partner
Your Relationship with Your Family (including coworkers, God/life, and society)
Pride Life
Editorial Topics:
Personal Development & Transformation "Loving Yourself"
Health & Wellness
Food & Nutrition
Addiction
Mind & Spirit
Fitness
Lifestyle
Financial Freedom
Relationship Compatibility
Why You Haven't Found Your Life Partner
Law of Attraction
Love is a Science
Finding Love Over 40: The Missing Pieces to the Puzzle
To Date or Not to Date
What Women Think, What Men Think
The Power of Giving & Receiving
Having a Healthy Relationship
Sustainable Relationships
How Your Relationship Brain Works
You Can Make Your Relationship Last Forever
Emotional Intimacy
Conflict Management: What Love is Not
Love, Sex, & Permanent Passion
Unconditional Love: Spiritual Relationships
Relationship With God, Life, & Society
Family Dynamics
Blended Families
Single Parenting
Business Relationships
Finding your LGBT Life Partner
LGBT Life Partner Relationship
LGBT Family Dynamics
The LGBT Mind, Body, & Spirit
Out, Healthy, & Fit
LGBT Lifestyle
---
AUDIENCE
Reaching over 100,000 Consumers
Relationship Development & Transformation Magazine's readers are passionate consumers who are committed to lifelong relationship success by actively improving all aspects of their life.
With a wide array editorial coverage, RD&T provides its advertisers with an engaged global audience, who are ready to buy your product(s). RD&T readers are the ideal consumer, who many leading brands covet as customers. They are motivated and ready to take action to ensure their personal development and relationship success.
A FOCUS ON THE SUCCESS OF RELATIONSHIPS
RD&T readers are on their journey to a fuller and greater expression of life and this includes all their relationships: life partner, family, food, health, finances and the ultimate relationship, "Loving Yourself."
Audience Profile by Editorial Section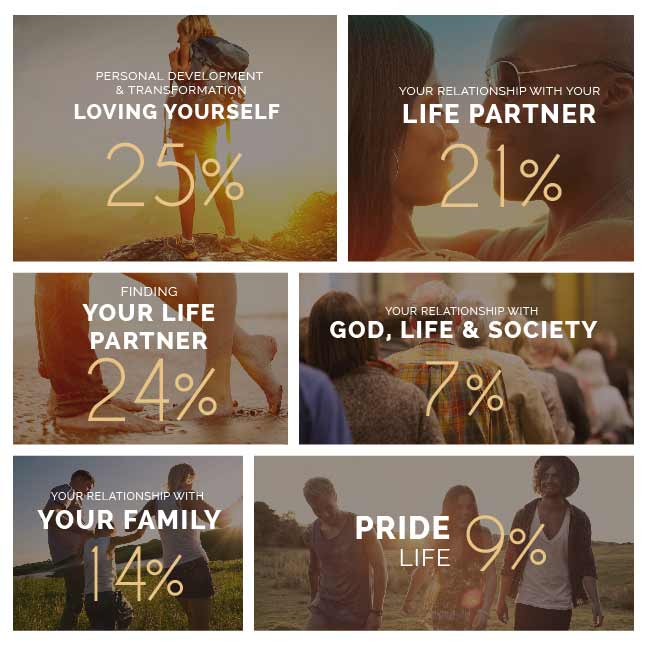 ---
If you have any questions, feel free contact Destini Ferguson, Sales Director at [email protected]