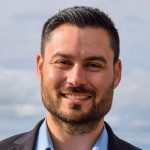 Chris Tubbs
Account Manager, Dropbox
Do you want to improve your health, have more energy, or lose weight? Or maybe you just want to blow off some stress and and meet new friends. If you said yes to any of the above, become a run a race in 2021. This guide will show you how.

Chris is a business development leader, marathoner, triathlete, MBA and writer for knowyourbest.com

Chris is an accomplished sales and business development leader with experience at companies like Microsoft, Salesforce, and Dropbox. He went from being kicked out of high school twice to earning an MBA at UC Berkeley, and from being a pack-a-day smoker and aquaphobe to marathoner and triathlete. He writes about self improvement for knowyourbest.com.


Recent Articles
June 15, 2021

---

Total Articles: 1
Recent Forums
---
Total Forums:
Recent Replies
---
Total Replies:
No achievements found.