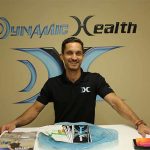 Fabien Hronec
Dynamic Health
I have been an Integrative Health Coach since 2009. Starting off, I quickly realized that there is a lack of education to the general public when it comes to holistic nutrition. I have been fortunate to be mentored by Dr. Thomas Bige MD/ND in Eastern, Ayurvedic, and Western medicine. He has worked for the W.H.O. (World Health Organization), built his own chain of clinics, and has a line of whole food nutritional supplements. I am looking forward to using integrative medicine with modern day technology to help people optimize their health.

I have been using Epigenetic Hair Scan technology for the last 7 years to design nutritional and wellness protocols for clients. In 2017 I had Dr. Thomas Bige come to Ocala FL to duplicate his clinic model that has been operating in Australia for the last 20 years, and that was when Dynamic Health was born, and has been operating for the last 3 years. I helped develop a company called Pinpoint Scans and am currently the COO. It is a company that uses the data from each person's epigenetic hair scan and then formulates a custom nutritional supplement to meet that person's individual health needs. We also have a fasting kit and other supplements that have been developed and currently are white labeled, and sold by 2 start- up companies, Regen

---

Fabian has helped me change my life in just a few months...recent Doctor appointment & she could not believe the numbers...AIC 5.8 down from 6.8, Glucose was 125 & over for the last 3 years--now 109, BP was 109/69...loss 18 lbs....she asked for Dynamic Health contact information...all this just in less than 90 days...very happy with all aspects of DH & Fabian, especially the Chamber & Dome which has relieved much of my daily pain...I will be a life time client...Mike

---

I Could write so much how Dynamic Health Coaching has turned my health lifestyle completely around for the better. I always complained about my heath but in reality never did anything about it. When I first started work outs with Fabien, I hated the torture of exercising, now I enjoy the challenges. Seeing the results in my body motivates me lots! What I love about Fabien that he never made me fell dumb about not being able to do some of the exercises.

---

My finance and I did the hair scan and the results were spot on. Fabien took the time and sat down with us and fully explained what each category meant. Extremely happy with this service and looking forward to moving forward with a health plan with the help of Dynamic Health Coaching.
Recent Articles
August 19, 2020

---

Total Articles: 1
Recent Forums
---
Total Forums:
Recent Replies
---
Total Replies:
No achievements found.