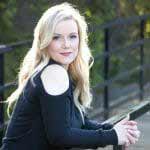 Stephanie Jameson
Psychic Empath and Certified Reiki Master, Divine Soul Journey
Stephanie Jameson is an intuitive psychic empath and certified reiki master. She works with individuals all over the world who find themselves being moved through an awakening/ascension journey, some who are discovering that they themselves may also have light working gifts to share. She understands that the separation from others and from spirit is just an illusion. She also understands the struggles that come along with being an energetically sensitive person. A lesson that many healers need to learn, she knows that she was moved through these experiences first hand so she could ultimately help others recognize their own gifts and trust in themselves. Nothing brings Stephanie more joy than to help others find peace, clarity and healing

Stephanie currently resides in Boise, Idaho. and is the author of The Happy Empath's Workbook. For as long as she can remember, Stephanie would gain insight & guidance through her dreams. This is something that she only shared with her family and those closest to her for years. It was not uncommon for Stephanie to receive messages from her loved ones or those who are close to her loved ones who had passed. Stephanie has felt a constant need to serve throughout her entire life, this has been especially true over the last few years. After going through her own catalyst awakening & years of battling between the heart & mind, she was reminded of who & what she really is, aligning her with her true soul purpose.

She was reminded that love is the only thing that is real in this world. Through intuitive healing/empowerment sessions, Stephanie is committed to helping adults connect with spirit as well as offer guidance that can help heal inner child wounding, karmic patterns & conditioned beliefs that keep them from living in alignment with the abundance they are truly worthy of. Nothing brings Stephanie more joy than to help others find peace, clarity and healing. Stephanie enjoys reminding everyone who she comes in contact with how beautiful & strong they truly are.




---


RECENT PUBLICATION
The Happy Empath's Workbook

This workbook has been designed to assist an empath or one who is awakening to navigate through their sensitivities as well as help them through some of the common challenges that can be experienced when being moved through the awakening process and learning to embrace their gifts.

---

"You are amazing Steph, Thank you so much. I learned so much and I love your energy. It was an enlightening experience! You are a very gifted woman and you share your gifts beautifully; and I thank you for sharing them with me. I can already sense that the session is leading me to explore my potential and go deeper. Your light is a torch of awakening and I'm blessed that you'd share some of it with me. I look forward to learning more in the future! Thank you for being part of my journey."

---

" Thank you for being you, being in my corner and helping me in my life. I don't think you'll ever know the gratitude, thankfulness, and appreciation I truly have for you. Thank you for helping me go further on my path towards where I'm supposed to be! I love YOU!"

---

" You are amazing!!! I am truly blown away. Everything you said has put me at ease. Thank you so much for your healing words. To hear from my mom has been the best gift ever. God bless! "
Recent Articles
December 21, 2020
September 15, 2018
August 29, 2018

---

Total Articles: 3
Recent Forums
---
Total Forums:
Recent Replies
---
Total Replies:
No achievements found.