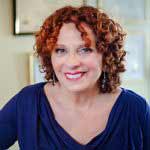 Andrea Brandt, PHD, MFT
Psychotherapist | Speaker | Author
Dr. Andrea Brandt is a marriage and family therapist located in Santa Monica California. Andrea brings over 35 years of clinical experience to the role of individual family therapist, couples counseling, group therapy and anger management classes. Dr. Brandt is a recognized expert in treating a full range of emotional issues, including anger & aggression, anxiety & trauma, aging issues, relationships, work-life balance, workplace, and women's issues.

In her workshops, patient sessions and presentations, Dr. Brandt reveals positive paths to emotional health that teach you how to reinvent and empower yourself. She emphasizes the mind-body-heart connection as a key to mental, physical and emotional wellness. Upon pioneering a new approach to emotional healing, Dr. Brandt directed her attention to the study of anger management and conflict resolution. In her book 8 Keys to Eliminating Passive-Aggressiveness, Dr. Brandt examines strategies for overcoming a common yet debilitating response mechanism.

In her second book, Mindful Anger: a pathway to emotional freedom, Dr. Brandt explores methods to better understand and manage the powerful emotion of anger. In her third book, Mindful Aging: Embracing Your Life After 50 to Find Fulfillment, Purpose, and Joy, Dr. Brandt challenges you to throw out the old stereotypes about aging, to look at the powerful and inspiring new evidence, and to open yourself to the very real possibilities that exist for you right now.

She holds workshops open to the public on passive-aggressiveness: 8-Keys to Eliminating Passive-Aggressive Behavior Workshop. She also trains therapists across the nation with the seminars: Mindful Anger: The Art of Transforming a Difficult Emotion into a Therapeutic Tool Seminar and Mindful Aging: Finding Fulfillment, Purpose, and Joy in Later Life.




---


RECENT PUBLICATION
Mindful Aging

We all age. We all hope to age gracefully. However, we generally need some guidance to make sure that we are aging gracefully. Mindful Aging is the ideal baby boomer guide book for mindful aging. Andrea Brandt's book gleans many of the practices of mature aging that she teaches in her Andrea Brandt Therapy practice but gears these practices specifically for the baby boomer generation, which is reaching retirement age in droves. Mindful Aging helps you reach your highest potential and find fulfillment as you age and life continues to change in unexpected ways. Find peace of mind as you read Dr. Brandt's insight into the aging process and find new ways to embrace the life you're living.

---

"8 Keys to Eliminating Passive Aggressiveness" was a good book. I researched PA books for a while before I bought this one. I am an engineer and know very little about psychology. This book is straight forward, concise and provides realistic approaches to help you.

---

"Mindful Anger" changed my behavior (because it reached my mind and heart) while I was listening to it, which I did twice. I thought it organized information well and gave really excellent examples that I could understand and relate to. Sometimes you just need one really beautiful or important thing to take away and make your own, and this book gave me that.

---

"Mindful Aging" is an enjoyable and useful book. It's for all ages but I found it so helpful I bought copies for my friends. It's written so all ca n follow and make use of the advise. It's not at all dull or preachy as some self help books are and it helped me embrace my age with joy and not despair!
Joined:
November 19, 2018
Recent Articles
February 23, 2021
February 19, 2021
December 8, 2020
November 16, 2020
November 4, 2020
October 14, 2020
October 5, 2020
September 24, 2020
September 16, 2020
September 1, 2020

---

Total Articles: 48
Recent Forums
---
Total Forums:
Recent Replies
---
Total Replies:
No achievements found.