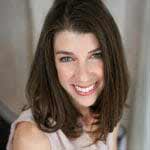 Jenny Paulin
CPC, ELI-MP, Jenny Paulin Coaching
Jenny Paulin is a mom to 3 active children, Certified Professional Coach, Energy Leadership Master Practitioner, writer, speaker and educator for those who feel stuck in their current circumstances and are looking to answer the burning desire to create a more purpose-driven life. Jenny is passionate about giving voice to girls and women around the globe and finds inspiration in working with organizations who share her vision.

As an empowerment coach, Jenny engages women through cutting edge tools, assessments and exercises to tap into the essence of who they are and in turn, show up more fulfilled, self-aware, and empowered to lead whether at home or in the boardroom.. In her free time, Jenny enjoys comedy in any form, playing with her family and hiking with her English Pointer. She lives in north Jersey with her husband and 3 children.

Jenny has worked in the field of wellness and development for over 20 years, serving in roles that range from in-house mental health care to one-on-one private life coaching. Her experience includes: researching social-emotional issues, articulating scientific findings, administering personal and psychological assessments, educating small and large groups, creating and leading workshops on self-development, designing and implementing SMART Step action plans, leading focus groups and volunteering her professional services for the underserved.

She is principal of her own coaching practice, Jenny Paulin Coaching, LLC where she designs unique coaching plans for private clients. Her offerings include signature online systems, immersive breakthrough coaching and small to large group classes.

Jenny has enjoyed writing for publications for over 5 years on topics that include parenthood, wellness, self-care, transitions, communication techniques and taking action. She has served as a Professional Writing Consultant for Michigan State University where she holds a degree in Psychology, with a Concentration in Professional Writing and Women's Studies.




---


UPCOMING EVENT
The Book That Changed Your Life: Conversation with the Coaches

This month we are cozying up and discussing the books that have changed our lives. Whether it was inspiration, a wake up call, soul searching or just the best logical advice you ever received - we want to know about it! As coaches we'll be sharing our own "must reads" and the way they've affected us and we can't wait to hear where the conversation leads. We'll be meeting at the cozy Little Food Inn - Feel free to grab dinner or just a coffee and settle into some rich conversation, fantastic recommendations, and perhaps some inspiration that you might be needing at this moment! Don't hesitate to bring a guest or two and please RSVP so we can reserve the right amount of space!

---

"My work with Jenny Paulin has been invaluable — transforming the way I live, work, and love . . . forever. It's so liberating! In the 2 months since working with Jenny, I've discovered strength, skills and courage I didn't know I had, developed strategies to CHANGE beliefs and behaviors that are untrue or don't serve me, successfully navigated difficult conversations with courage and kindness, optimized my job search . . . and landed a NEW job with a great company!"

---

"Jenny is the most incredible coach!! I don't know where I would be without her in my life!! I recently have made a huge change and will be moving across the country. I never would have made this next big step without the help of Jenny and the tools she's helped me gain. Thank you Jenny for helping me realize I got this! And also for helping me to see that the impossible is actually very much possible!"

---

She helped me to get through a pivotal time in my life…Jenny is an amazing coach! She listens very carefully, is very intuitive, energetic and compassionate. She helped me to get through a pivotal time in my life and with her encouragement, I was able to become aware of and move past things that were holding me back from being and liking who I am. I couldn't have asked for a better coach to be at my side!
Recent Articles
March 9, 2021
February 10, 2020
May 30, 2019
May 17, 2019
April 3, 2019
March 22, 2019
March 14, 2019
January 14, 2019
October 12, 2018
July 17, 2018

---

Total Articles: 10
Recent Forums
---
Total Forums:
Recent Replies
---
Total Replies:
No achievements found.