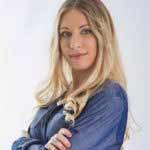 Kirstin O'Donovan
Certified Life and Productivity Coach, Founder and CEO , TopResultsCoaching
Kirstin O'Donovan is a multinational business coach from South Africa, an author and founder of TopResultsCoaching®, an international company providing coaching services in nearly a dozen countries. With over 10 years working in the field of coaching and personal development, she helps entrepreneurs and small business owners improve their results and performance. She also serves top-level corporate executives in Spain, providing coaching and skills training. Kirstin provides executive training, workshops and seminars for multiple international organizations in areas involving performance, productivity and time management.

As an author who writes for various international publications in small business and productivity, Kirstin is a certified NLP Practitioner and holds various certificates and credentials related to personal and business coaching. She wrote the book, Maximize Your Time to Maximize Your Profits, and is the co-author of two other books, The Confident Woman and There is GOLD inside YOU.

Kirstin is committed to empowering others to create a life that they desire and build a mindset that will support seeing their dreams and desires turned into reality. Currently residing in Spain, she speaks fluent Spanish.

TopResultsCoaching is a company that provides coaching services and skill development training. As a productivity coach, Kirstin specializes in helping individuals gain control over their life and to feel more productive and organized in achieving the utmost results they desire in life.

For more information about TopResultsCoaching, visit www.topresultscoaching.com




---


RECENT PUBLICATION
5 Productivity Secrets That Took me From a Chaotic Solopreneur to an Organized Business Owner in 90 days – WORKBOOK

My biggest issue was getting everything done that I wanted and also, getting the results and return that I wanted from my time. That is what I felt like and I'm sure you feel like that a lot too. How you manage your time is everything, it determines whether you will achieve your goals or not. Are you clear on exactly which tasks will bring in the best results? Are your daily actions aligned with the goals you want to achieve long term? How do you keep yourself focused and organized to accomplish bigger things? Where does all your time go anyway? To achieve your goals, get organized and free up time sounds like a lot of work, you are so busy, I get it. From years of experience with not only myself, but my clients, it's clear that there is an easy way to quickly get on top of all your commitments, gain clarity and get focused, free up time and enjoy a more balanced life. There are 5 secrets, things you need to do to create these incredible results. You are getting the exact secrets and steps I take my clients through to change their story from chaos to organized, from overwhelm to clarity and procrastination to productive. You'll learn how to: Maximize your time by increasing your productivity Free up time to do more or do less – you decide Achieve your business and financial goals sooner Feel organized, focused and productive This workbook takes you through the 5 Secrets you need to apply to get organized in 90 days. Each secret requires action, but they are simple, easy to implement and will bring you improved results immediately.

---

Before meeting Kirstin I wasn't sure about starting my own business. I was stuck in the process of endless planning and gathering information. But I couldn't start doing something. Immediately after our first session I understood how I should precede to realize my goal and started acting towards it. We worked on specific steps and milestones and Kirstin also helped me with her professional advices. Now after our coaching with Kirstin I really can say that I realized the goal of the coaching with success. I'm sure that this was due to Kirstin's coaching style: empowering and attentive at the same time. She listens to client's own wishes and leads to actions. In only three weeks I could understand what I will do in future and how I'm going to precede. She gave me motivation and helped me to feel powerful. So that I could finally stop planning and could begin acting. Thank you for that, Kirstin

---

Kirstin helped me get more done in three months than I had accomplished in the last year. She listens deeply and asks excellent questions that bring out my guidance and knowing while also helping me to shape a plan with powerful strategy. Her positivity is energizing and I feel inspired to tackle my projects after our sessions. She is efficient and respectful with our time and shows up completely for each session. Kirstin strikes an incredible balance between sharing heartfelt support and confidence in my abilities and being honest and forthright in moments when more motivation is needed. I searched for weeks for a coach that felt right and am so glad to have found Kirstin.

---

Kirstin has been an invaluable coach to both grow my business and improve my productivity. Her amazing passionate energy she brings to each coaching session has made me excited and full of energy to work hard at my business. I would recommend Kirstin to anyone looking to take their business to a whole new level.
Recent Articles
February 14, 2019
February 6, 2019

---

Total Articles: 2
Recent Forums
---
Total Forums:
Recent Replies
---
Total Replies:
No achievements found.