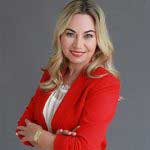 Michelle Perchuk
Founder, MTV Coaching
I often think about my career and my education at NYU and one famous phrase from Frank Sinatra comes to mind, "if I can make it there, I'll can make it anywhere." Michelle Perchuk's entire career has been centered on building relationships and improving people's lives. She has close to two decades of experience at elite recruitment firms working with Fortune 1000 companies . She attributes her expertise to the numerous long-term relationships with hiring managers, Human Resources and C-Suite executives in New York City as well as other fast growing marketplaces. She has a keen understanding of the hiring process and what the candidate needs to do to land their desired job.

Undoubtedly, many young people are lost and frustrated with information overload. The marketplace is complex and can be overwhelming, but it doesn't have to be. As the founder of MVT Coaching, she addresses the changes in the job market and the troubling trends present today today. The workplace is evolving at lighting speed, and while there is an abundance of jobs, many applicants need the help of an expert to match their skills, interview successfully, dress appropriately and craft powerful images and LinkedIn profiles. Michelle deals with pressing issues young professionals face today, how to differentiate yourself and how to build connections in the business world as a recent college graduate.

A member if the International Coaching Federation, Michelle Perchuk is an author of an influential book on the state of contemporary recruiting, "Swimming in the Talent Pool," which was a product of interviewing over 30 C-Suite executives of companies like AIG, New York Times, Scholastic and Citigroup.

Having counseled and placed thousands of job applicants at an impressive array of companies, Michelle believes this extensive experience adds a valuable dimension to her coaching practice and takes pride that her clients have benefited from this greatly. She references her personal journey in New York City when she works with young people. She understands the pitfalls and draws from her experiences as a college grad, young professional, senior executive and CEO of her own company. Most of all she has compassion and offers support to her clients as they build and develop personal goals, careers and lives.




---


RECENT PUBLICATION
Swimming the Talent Pool: The Evolution of Recruiting

Swimming in the Talent Pool: The Evolution of Recruiting' by Michelle Furyaka (Michelle Perchuk) with an introduction written by Jonathan Reichental, Former Chief Information Officer of the City of Palo Alto, explores the world of contemporary recruiting with a specific focus on the technology sector. The book aims to explain the importance of recruiting and career coaching by reviving the image of the recruiting firm, with its importance articulated through candid executive interviews. Michelle (Furyaka) Perchuk shares her insights from being the CEO of a New York-based recruitment firm and discusses the widening gaps within the industry.

---

Over the past months, Michelle has been my Career Coach. Michelle and I would meet once a week, over the phone, to discuss various topics to help me professionally. Every session starts off with Michelle asking you, "What do you want to work on," which shows Michelle truly cares in helping you and gears the session for your needs. Michelle would be able to ask the right questions to dig down to the root cause, create an action plan for next steps, and keep you accountable for those steps.

---

Michelle and I worked together for the last year. I am incredibly lucky to have her as a mentor and career coach. She is both perceptive and knowledgeable not only about recruiting but also about job markets across a wide range of industries. She is much more than a career coach. In four months, through weekly calls and meetings, Michelle was able to help me better define my personal and professional aspirations. She gave me the necessary guidance, direction and confidence to achieve a greater s

---

I've been working with Michelle as my career coach as I seek a new senior-level opportunity. My experience is that Michelle stands apart from the other outplacement resources that I've used. The bottom line is results towards the objective of finding a great position and Michelle is an expert at bringing an action-oriented, focused approach to my job search. Our discussions are always very productive. I always come out of each call with a list of high-impact action items.
Recent Articles
January 15, 2021
December 23, 2020
May 20, 2020

---

Total Articles: 3
Recent Forums
---
Total Forums:
Recent Replies
---
Total Replies:
No achievements found.