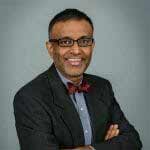 Utpal Dholakia
George R. Brown Professor of Marketing, Rice University
Utpal Dholakia is a professor of management and holds the George R. Brown Chair of Marketing at Rice University, where he has been since 2001. Utpal has taught marketing and pricing to MBA students for over two decades, and conducts research to advance our understanding of marketing strategy & consumer welfare. His current research is about financial decision making by consumers & investors, marketing strategy for startups, and small & medium-sized enterprises, and digital marketing issues. Utpal also studies relational consumer behavior and best practices in conducting marketing research.

Utpal has published over 50 articles in the top marketing and management journals including Journal of Marketing Research, Journal of Consumer Research, Marketing Science, Management Science, Psychological Science, Journal of Marketing, and Organization Science. He has extensive consulting and expert witness experience in financial services (retail banking, investment banking, consumer protection), technology (intellectual property, digital marketing, social media, e-tailing, software, hardware), healthcare, and energy (O&G, electric utilities) industries.

His consulting specialty is conducting survey-based research for investment banking clients looking for specific insights into consumer and market trends, and to support intellectual property and marketing & consumer-issue lawsuits. As an expert witness, he has deposition and testimony experience. Utpal has also consulted on design & evaluation of pricing strategies, developing & measuring social media strategies, quantitative analyses for managing customer information and developing positive ROI marketing campaigns, CRM adoption, and branding issues.

Utpal writes frequently for Harvard Business Review, and his popular blog on Psychology Today is called The Science Behind Behavior. He received his MS in psychology, and a PhD in marketing from the University of Michigan, an MS in operations research from the Ohio State University, and a BE in industrial engineering from the University of Bombay.




---


RECENT PUBLICATION
How to Price Effectively: A Guide for Managers and Entrepreneurs

Pricing decisions are among the most important and impactful business decisions that a manager can make. How to Price Effectively: A Guide for Managers and Entrepreneurs introduces the value pricing framework, a structured, versatile, and comprehensive method for making good pricing decisions and executing them. The framework weaves together the latest thinking from academic research journals, proven best practices from the leading pricing experts, and ideas from other fields such as medical decision making, consumer behavior, and organizational psychology.
Joined:
September 11, 2018
Recent Articles
November 12, 2018
November 2, 2018
October 25, 2018
October 18, 2018
October 4, 2018
September 27, 2018
September 14, 2018

---

Total Articles: 7
Recent Forums
---
Total Forums:
Recent Replies
---
Total Replies:
No achievements found.