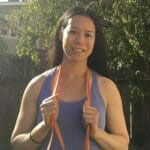 Candace Rhodes
Personal Trainer, Rhodes To Strength
Candace helps ambitious women who are struggling to lose weight quit their restrictive diets and unsustainable exercise routines to become leaner and stronger. Learn how she does it and how she can help you do the same at Rhodes To Strength

Having transitioned to personal training from biotech, Candace saw how costly chronic health issues can be, how debilitating they are, and how much they limit one's lifestyle. Instead of waiting for the inevitable future hospital and medical bills that result from decades of poor health she advocates being proactive about your health today. Candace helps her clients take charge of their health so they can be healthy, fit, and functional for life with a proper diet and strength training exercise routine.

She loves educating her clients and seeing their eyes light up when they realize how much they are capable of lifting in the weight room. Once her clients are aware of the physical and mental strength that exists within them during their workouts it skyrockets their confidence in themselves and transform their lives. Sharing these breakthrough moments and seeing her clients get stronger and healthier every week is the most rewarding part of her job

---

"In one month of training with Candace I dropped my bodyfat from 24% to 19% while maintaining my lean body mass. [Candace] educated me on a healthy diet and how to eat clean while monitoring my diet. She trained me to know where my limit is and how to push my limit without injuring myself. She is very knowledgeable and designed what was best for me to achieve my goal."

---

After having 2 kids I hired Candace to get a customized program to get a flatter stomach and more tone. I've become a more confident person since training and dropped 2 inches around my waist in 3 months. My stomach is flatter and tighter. For the first time in 4 years I am able to get back into my pre-pregnancy jeans and shorts!"

---

"It always amazed me how much she remembered from all our gym conversations - she truly cares! In the first month I lost an 1 inch around my waist and at the end of 3 months of training I lost 5 lbs of fat and gained 2 lbs of muscle. I felt so confident and proud of my body the day of my wedding - thanks to Candace!"
Recent Articles
November 16, 2018
August 27, 2018

---

Total Articles: 2
Recent Forums
---
Total Forums:
Recent Replies
---
Total Replies:
No achievements found.