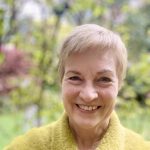 Donna Goddard
Writer
Donna is an author and shares her love for the Divine and the world with a large international audience. She has 350,000+ followers on her Facebook page and her YouTube channel has 2 million+ views. She lives in Melbourne, Australia.

Donna's qualifications are - Bachelor of Social Studies, Certified of Existential Metapsychiatry, Certified in Couple Therapy, Family Therapy and Spiritual Healing Therapy. Courses in Metaphysical Healing, Reiki, Sound Healing and other healing modalities




---


RECENT PUBLICATION
Writing: A Spiritual Voice

Writing: A Spiritual Voice is not a technical book. Of those, there are many wonderful ones. It is about tuning into the writer's spiritual voice. It is also about the personal and unique ways that my writing has developed due to the foremost goal of listening and responding to the Divine. In a sense, all good writers are spiritual because, if they are good, they are inspired. We are trying to make that link to individual inspiration more direct. If you are a spiritual student, as well as a writer, you will want to use your writing for spiritual purposes in the same way that we use everything to align and expand our spiritual being. The Creative Spirit Series is a 3-book series.
Recent Articles
December 17, 2020
October 22, 2019
September 20, 2019
August 1, 2019
July 1, 2019
March 25, 2019
March 14, 2019
January 8, 2019
November 29, 2018
August 10, 2018

---

Total Articles: 10
Recent Forums
---
Total Forums:
Recent Replies
---
Total Replies:
No achievements found.