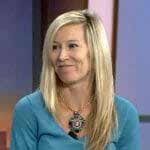 Dr Erin Leonard
Psychotherapist, Award winning author, and Keynote speaker, Dr. Erin
Dr. Erin Leonard has been a practicing psychotherapist for 20 years. During her time at Children's Memorial Medical Center, she was awarded the Shaw Research Award. She was recently a contributing expert to Time.com for a special feature on the 12 Worst Habits For Your Mental Health. She is also an author for parent.co and Red Tricycle. Dr. Leonard has also appeared on WGN and FOX affiliates in Chicago, Dallas, Boston, Memphis, Atlanta, and Phoenix. She is a TV contributor for WISH TV Indianapolis, WNDU South Bend, and WSBT South Bend.

Also, an award winning author of Loving Well, The Key to Satisfyingand Joyful Relationships, she received the Bronze Living Now Award in 2016. Her most recent book, How To Raise A Secure Child, Parenting With Empathy is available now at http://thebp.site/138691.

In 2018, Dr Leonard was awarded the title of worldwide leader in healthcare and inducted into The International Association of Healthcare Providers. Yet, her favorite title is "mom" – of two silly and sassy 10 year olds who have taught her the most about life.




---


RECENT PUBLICATION
How To Raise A Secure Child, Parenting With Empathy

Dr. Erin Leonard teaches parents how to communicate with their child in a way that allows the child to open up. This book ensures a parent remains close to their child as they help the child with anxiety, depression, bullying, disapointment, and change. Research indicates the factor that protects children from anxiety and depression, is the closeness of their relationship with a parent. This book guarantees it.
Joined:
September 11, 2018
Recent Articles
July 12, 2021
January 21, 2021
August 3, 2020
June 5, 2020
April 6, 2020
February 11, 2020
January 24, 2020
January 2, 2020
November 27, 2019
October 25, 2019

---

Total Articles: 39
Recent Forums
---
Total Forums:
Recent Replies
---
Total Replies:
No achievements found.