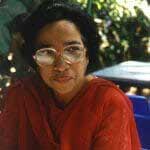 Dr. Eva Bell
MBBS, DGO, FRCOG
Eva Bell is a doctor of Medicine and also a freelance writer of articles, short stories, children stories. She is a Fellow of the Royal College of Obstetricians & Gynaecologists. She is a freelance writer, and her articles, short stories and children's stories have been published in magazines, newspapers, on the Net, and in several anthologies.

She is the author of: Novels – Silver Amulet, When Shadows Flee, Halo of Deceit, Runaway Widow, Power Surge in Eden. Knee Jerks and Gallop Rhythms. Non-Fiction- Grace Abounding, Womanism- The Adventure of being a Woman." Children's Books: Lost on the beach, Sniffer Dog and other stories. Wandering into Wonderland. E-books: Cactus Hill, Survival Strategies in an Angry World, Storm in the Desert, Womanism, Runaway Widow, Back From Beyond (Amazon Kindle.) The Singing Gondolier. Most of the books and e-books are available on Amazon.

Education: Gynaecologist/Obstetrician holding an FRCOG from London. Worked in India, UK, Iran, Brunei and Saudi Arabia. Bachelor of Divinity – Senate of Serampore, India. P.G. Diploma in Psychological Counselling- Institute of Health Care, Chennai, India. Certificate Course in HIV/AIDS – Christian Medical Association of India. Diploma in Journalism – International Correspondence Schools. Certificate in short story/Articles writing – The Writers Bureau, Manchester.

Present occupation: Retired from hospital work but works in an honorary capacity for two NGOs – VATHSALYA Charitable Trust involved in the education of the girl child. -THARA- NGO for the Empowerment of Women.




---


RECENT PUBLICATION
Knee Jerks and Gallop Rhythms

'Knee Jerks And Gallop Rhythms' is a collection of thirteen short stories reflecting the writer's professional understanding of bewildered people who visit hospitals. Told in a lucid graceful style the stories cover a wide range of human experience, of emotional distress and unhappy relationships and the process of healing that comes from within the human mind.
Recent Articles
March 3, 2021
February 12, 2021
January 13, 2021
December 22, 2020
November 17, 2020
November 13, 2020
November 11, 2020
August 20, 2020
August 4, 2020
June 26, 2020

---

Total Articles: 59
Recent Forums
---
Total Forums:
Recent Replies
---
Total Replies:
No achievements found.