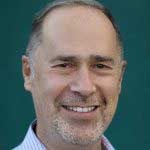 Ken Page, LCSW
Psychotherapist, Deeper Dating
KEN PAGE, LCSW, is a renowned psychotherapist, popular Psychology Today blogger, Huffington Post blogger and author of the bestseller Deeper Dating: How to Drop the Games of Seduction and Discover the Power of Intimacy. He has been featured in O, The Oprah Magazine, The New York Times, Cosmopolitan, Fox News, WPIX-TV News, Match.com, ChristianMingle, JDate and more.

Page has led hundreds of workshops on intimacy and spirituality for thousands of participants. He has taught at Columbia University, the Omega Institute and the Garrison Institute. In addition to his writing, coaching and psychotherapy practice, Ken founded Deeper Dating in 2004 as an event platform in which trained facilitators speak on sexuality, intimacy, and spirituality in the world of dating and then lead participants in a series of fun and enriching exercises.

The live events he has led provide an alternative to the bar scene and superficial dating events. They have drawn thousands of men and women of all ages and sexual orientations and have received much media attention. Stay tuned for his new online version of Deeper Dating!




---


RECENT PUBLICATION
Deeper Dating: How to Drop the Games of Seduction and Discover the Power of Intimacy

A program that not only leads to an authentically loving relationship but also steers us toward our own potential greatness–from well-known psychotherapist and dating expert Ken Page, LCSW. Deeper Dating is a message of hope backed by research; a course-in-a-book that will speed and ease your path to love.

---

Seduction gurus' beware! No more manipulations to trap a partner! Deeper Dating shows you how to attract the love of your life by discovering and being your authentic self. Finally a true roadmap to finding true love!

---

Many teachers talk about intimacy, love and dating, yet Ken Page stands out from the crowd because his understanding is at a level of depth and embodiment few teachers in this world have attained. Being in his very presence enables a person to heal and to have the experience of feeling lovable, worthy and "enough." I can't recommend his work more highly.

---

If you desire a soulmate, lead with your soul. So many of us come from that place of looking for that person who "completes" us, but Ken helped me to see that I desire a partner who "reflects" the best in me. Show your core gifts of vulnerability and authenticity and you'll find a partner who does the same.
Joined:
September 25, 2019
Recent Articles
January 21, 2020
January 6, 2020
December 3, 2019
November 22, 2019
November 7, 2019
October 29, 2019
October 16, 2019
October 1, 2019

---

Total Articles: 8
Recent Forums
---
Total Forums:
Recent Replies
---
Total Replies:
No achievements found.