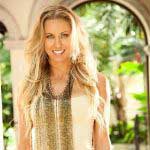 Ella Magers, MSW
Author, Life Coach, 18 Year Vegan, Celebity Trainer, Sexy Fit Vegan
With 23 years as an ethical vegan under her belt, Sexy Fit Vegan® founder Ella Magers, MSW strives to empower people to build a plant-strong body, heart, and mind for LIFE.

Ella has been a transformational coach for over 15 years. She is featured in the media as an expert on veganism, wellness, and fitness (click on her image above to listen to one of her latest appearances). Ella is a published author and speaker who has conducted workshops across the globe. She earned her Master's Degree in Social Work and Eating Disorder Recovery Coach certification to further her coaching skills.

Ella set out to bring veganism into the mainstream at a young age. Along the way, she has been named among Shape Magazine's 50 Hottest Trainers in America. She took first place in the bikini division at the FAME Fitness World Championships, and was named Trainer of the Month on Bodybuilding.com.

After healing from her own struggles with disordered eating and a distorted body image, Ella developed the 6-Month Plant-Empowered Coaching Program to help people align their actions with their values, develop a healthy relationship with food and their bodies, and create a joyful and meaningful life. Ella offers a free online Master Class to teach people how to start making the powerful mindset shifts necessary to transition to a healthy vegan lifestyle they love.




---


RECENT PUBLICATION
The Six Weeks to Sexy Abs Meal Plan

An Energizing and Delicious Vegan Meal Plan for a Strong and Lean Body Ella Magers has the perfect solution for those stubborn last six pounds and it doesn't involve logging hours and hours at the gym. Ella's unique formula for weight loss is made up of nutrient-dense, calorie-light, whole plant foods. She has created an effective, easy-to-follow six week plan for shedding body fat fast. Not just another fad diet, this program is designed to kickstart a vegan lifestyle and efficient workouts, without the calorie counting or "rabbit food" label! Ella offers a six-week plan of action, from all your meals to snacks, treats and workouts, designed to whip your tummy into shape! She provides delicious and healthy recipes such as the Beet This! Smoothie and Muay Thai Zucchini Noodles, along with grocery lists and tips and tricks for vegan food prep. The supplemental workout plan is intense, yet balanced, and features exercises such as burpees and plank variations for full body; assorted types of pull-ups and push-ups for upper body; and a squats and lunge medley for the lower body. The cross-training focuses on select areas and alternates with cardio on some days and yoga on others.
Recent Articles
June 23, 2021
February 5, 2021
December 10, 2020
November 18, 2020
November 5, 2020
October 21, 2020
October 8, 2020
August 27, 2020
August 13, 2020
July 30, 2020

---

Total Articles: 22
Recent Forums
---
Total Forums:
Recent Replies
---
Total Replies:
No achievements found.