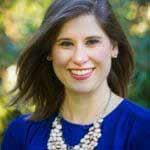 Kristen Rocco
Founder, Love Notery
Kristen Rocco is the founder of Love Notery, a company dedicated to helping couples realize the strength and beauty in their love stories and the importance of building upon that foundation every single day. Having worked with couples from all across the globe, Kristen knows a thing or two about what makes relationships work.

She's the writer and storyteller behind her signature product, Love Notery's custom-written love stories, the creator of "How to Write Personal Wedding Vows that Wow: Your Start-to-Finish Guide and Workbook," the only resource designed to help engaged couples from start to finish write heartfelt and meaningful personal wedding vows and "The Marriage Mindset", which teaches engaged and newlywed couples how to become a unified team in life, love and money.

After being married herself for five years and working day in and day out with couples, Kristen has profound understanding of what it means to be married and why your love story is the glue that will keep you happily married.




---


RECENT PUBLICATION
How To Write Personal Wedding Vows That Wow

Do you feel overwhelmed thinking about how to capture all the love you have for your partner in a few meaningful paragraphs? Are you confused about how to toe the line between personal enough and TMI especially with your friends and family watching on? Is your wedding around the corner and you need to whip up your wedding words quickly? How to Write Personal Wedding Vows That Wow: Your Start-to-Finish Guide and Workbook takes the intimidation factor completely out of writing your own wedding vows because Kristen teaches you step by step how to transform your scattered thoughts into wedding vows that wow.

---

Thank you for all your grace and incredible words of our love story. Our wedding was truly the best day of our lives and we loved every minute of it! Thank you for working with me and helping me create such a personalized gift. My husband loved it and so did our wedding guest. Our love story was displayed at our welcome table and it was a great way to let our family and friends know how we met.

---

Reading my love story brought all of those tucked away memories back to life. It was so fun to relive each of those forgotten (and some not so forgotten) moments. It is such a beautiful keepsake that I can't wait to showcase at my bridal showers, our wedding, and in our home. An even neater aspect is that I can pass it on to my kids who will get to learn the ins and outs of their parents' love story.

---

In sitting with Kristen and telling our story, we really reconnected with all of the paths that brought us to where we are now. Kristen's beautifully worded tale of those paths is the perfect way to share our story with our loved ones, and is something we will always treasure. Thank you, Love Notery!
Recent Articles
December 8, 2020
March 20, 2019
March 1, 2019
December 14, 2018
November 30, 2018
October 5, 2018
September 20, 2018
September 18, 2018
August 11, 2018
July 24, 2018

---

Total Articles: 10
Recent Forums
---
Total Forums:
Recent Replies
---
Total Replies:
No achievements found.