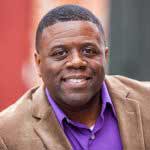 L. Wayne Smalls
CEO, L. Wayne Smalls & Associates, LLC.
Independently certified speaker, Amazon Best Selling author, L Wayne Smalls became a resident of Fayetteville, NC. after serving over 25 years of total service in the United States Army; retiring at the rank of Major. Some of Wayne's military awards include a Bronze Star Medal for combat in Afghanistan, the Army Commendation Medal, the Joint Service Achievement Medal, and many others. He also has an extensive professional educational background in business administration and leadership development, which brings a unique brand of instruction to any training event.

Wayne is the founder and CEO of L. Wayne Smalls & Associates, LLC where the philosophy is "You have personal experiences to share, skills to teach, and wisdom to impart, which makes you unique and allows you to become a BRIDGE BUILDER for the MASSES." As seen on Fox, NBC, ABC, and CBS, L. Wayne Smalls & Associates is mentoring leaders of the future through innovative programs. The organization believes in empowering, enabling & enhancing aspiring leaders of the future to grow and become better leaders. The goal of the company is to provide high-quality professional leadership training that can improve the overall effectiveness of any organization. Some of the services that are provided are keynotes, motivational speeches, leadership coaching, team building workshops, seminars, and mastermind groups.

With a climbing number of progressive books and publications, Wayne is noted for the Amazon #1 Best Seller, Called to Be A Soldier, as well as the first two volumes to his Leader Lifestylez Series. Not only is Wayne an author; but he is a certified leadership trainer and coach mentored by John C. Maxwell, one of the top leadership gurus in the world. As a steward of leadership and growth, Wayne believes that everyone can reach his or her fullest potential with the proper guidance, motivation, and inspiration.

Wayne is the host of his own leadership talk radio show, Leader Lifestylez, which airs weekly on WIDU Radio. He also uses his Leader Lifestylez movement to teach leaders that leadership is not just about a role, position or title, but is also a lifestyle and mindset. Wayne is also a member of the panel on the Heartbeat radio show which airs weekly on WIDU Radio and discusses social issues that affect our communities. Wayne is a part of several mentoring groups in the community and has a strong passion for helping others achieve their dreams.




---


RECENT PUBLICATION
Leader Lifestylez Vol. 3

D.A.P. Your Way To Greatness: Essentials for Success

---

One of the most professional and engaging speakers I have ever worked with!

---

Your insights toward leadership and transition were interesting, thoughtful and inspirational. Thank you for sharing your thoughts with the cadets of North Carolina State University's ROTC program.

---

Mr. Smalls challenged the audience to be deliberate in achieving their goals. I thoroughly enjoyed the wonderful presentation and look forward to a long and productive relationship with L. Wayne Smalls.
Recent Articles
April 1, 2021
July 7, 2020
May 28, 2020
May 12, 2020
March 19, 2020
January 27, 2020
November 18, 2019
August 26, 2019
July 17, 2019
June 4, 2019

---

Total Articles: 11
Recent Forums
---
Total Forums:
Recent Replies
---
Total Replies:
No achievements found.