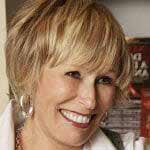 Nancy Nichols
Author, Motivational Speaker & Dating Coach
Nancy Nichols is a best-selling dating and relationship author, empowerment speaker and notorious "Know-It-All Nancy" blogger. Nancy's self-help books are based on a lifetime of overcoming low self-worth, relationship failures and divorce. Her message is thought provoking, inspires self-esteem, relationship understanding and emotional healing for women.

Nancy struggled for decades to overcome her self-doubt, fear and shame that stemmed from her hurtful, dysfunctional past. Her quest was to understand the attitudes and behavior which create personal happiness and relationship stability. Her personal growth journey and her passion for self-improvement gained her an intuitive edge into understanding the self-defeating behaviors that cause women's relationship difficulties and heartbreak. Her specialty is helping single, divorced and widowed women identify their negative mindsets, correct their maladaptive behavioral patterns, and understand the modern rules of dating.

"I discovered my purpose in life working while with women as a skincare and cosmetic consultant. Having spent a lifetime working on my personal problems, I connected to their struggles and personal issues. My job as a consultant was to train business managers and owners in makeup artistry, skincare application, customer acquisition and sales skills—but what they really needed—and wanted—was confidence in their abilities and self-worth."

Dating and Transformation Coach Nancy Nichols helps mature single, divorced and widowed women: • Break their old behavioral patterns. • Recognize and correct their behavioral patterns that run men off. • Break the cycle of an abusive relationship. • Stop falling in love with men who are non-committal and emotionally unavailable. • Raise their standards and consciously date men who will commit, respect and genuinely love you. • Recognize the red flags of players, romance artists and abusers. • Write an attractive, intriguing online profile. • Understand the complicated rules of online dating. • Have confidence with men and "flirt" with poise and purpose.

Nancy's first book Secrets of the Ultimate Husband Hunter was published 2007. Her second book Never Date a Dead Animal was publish 2013. Her third book God, Please Fix Me! was released in August 2015.




---


RECENT PUBLICATION
God, Please Fix Me

God, Please Fix Me! is a healing breakthrough for women who suffer from low self-worth, who lack confidence and relationship understanding, and who struggle with the damaging effects of a hurtful, dysfunctional past. Author Nancy Nichols's firsthand knowledge of divorce, relationship failures and heartbreak gained her unique introspect into the faulty mindset which create a woman's maladaptive behavior and damage her relationships. Nancy shares the illuminating revelations that opened her eyes to her distorted beliefs and helped her overcome a lifetime of self-doubt, fear and shame, dysfunctional behavior and addictions, break the cycle of an abusive relationship, and silence her self-deprecating inner voice–forever.




---


UPCOMING EVENT
"Can-Do" Woman

The power of our thoughts form our entire life's experiences. You can change the outcome of your life—even if you think about it a little bit, you can alter your destiny. You can achieve your dreams—if you think about it continually, if you believe it passionately, if your actions relentlessly work toward your goals, and if you never give up—your aspirations will one day materialize.

---

Nancy Nichols's candid testimony of triumphing over a hurtful and difficult past moved everyone in the room. Her presentation "Change Your Thoughts; Alter Your Destiny" was different from any other speaker that we've ever heard.

---

Nancy Nichols is a lively, informative, and thought-provoking author whose book will transform millions of lives

---

Nancy presents insightful, practical, eye-opening information that inspires single and married women alike. Her approach is unique, engaging and current.
Recent Articles
March 16, 2021
February 2, 2021
January 5, 2021
November 20, 2020
November 5, 2020
May 10, 2019
February 8, 2019
January 3, 2019
December 21, 2018
December 13, 2018

---

Total Articles: 20
Recent Forums
---
Total Forums:
Recent Replies
---
Total Replies:
No achievements found.