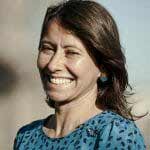 Dominique Mas
Owner, Lead With A Twist
I grew up in the south of France and felt like the world was my oyster: there was more to my journey than just my hometown. With the love and support of my parents, I took a major leap at aged 18 and moved to London, England where I starting teaching. I quickly fell in love with sharing my knowledge and skills with others. I knew I wouldn't stay in London forever as I've always been compelled to move around, experience new things, and meet new people.

After 8 years, I moved to Barcelona to work in an international school. I soon found myself in a transitional experience as I took an inspirational trip to Djibouti, East Africa. This was a pivot moment for me as my eyes opened, my horizons widened and I realized I needed to continue to explore new places. After 2 years in Barcelona, I started my educational leadership career as at the British School Manila and this point in my career is when I realized I found my true calling.

I learned what it means to be part of a creative team of leaders who strive to make their vision come true. After four years in the position, I wondered whether my focus on education was too narrow and I could apply these principles to other sectors. In 2009, I took a year to step away from a corporate environment and traveled to Central America and Bali to deepen my practice of yoga and enjoy some of my favorite hobbies like surfing. During this year I realized that leadership and learning are fundamental principles that make up my DNA.

I then transitioned to  West Island School, Hong Kong. I was able to complete my Leadership and Change MA with the Hong Kong Institute of Education and felt accomplished. Transition led me once again across the globe to the prestigious Dwight School in New York City. I arrived in the US in August 2013 and in my new role I seamlessly created a leadership program that cohesively brought together teachers from 15 different nationalities to form a high achieving team.

After 15 years in educational leadership, I reflected on the transitions I've moved through and soon realized these experiences were building towards starting my own private practice for coaching. I decided to jump in and  started coaching high performers as well as planning and facilitating group sessions and workshops to help others develop internal self-awareness. The thing is, none of these transitions were as seamless as they sound on paper but I kept on going with the tools I've learned along the way. As I reflect on my life, I can personally pinpoint the transitions I struggled through that allowed me to reach my next level with confidence.




---


UPCOMING EVENT
Fall Group Coaching Program Pilot

Being focused on what truly matters in your life is a powerful way to accelerate your growth and that of those around you. But developing the courage to live a created life can be overwhelming if you don't have the right steps to follow. There are tons of fears that show up, questions that are raised and factors that can hold you back. This group will help you live a life driven by your core values and truly challenge you to soar.

---

Working with Dominique was an absolute pleasure! Her positive energy made me feel very comfortable, yet she pushed me to dig deep within myself and think about things on a deeper level. After five sessions, I feel more clarity and happiness with my current work situation and I am able to walk away with tools that will enable me to continue feeling joyful in my career. I would recommend her coaching services to anyone who wants to make a change!

---

I worked with Dominique on a 1:1 coaching program. She was a true pleasure to work with, and I looked forward to our weekly sessions. Her energy, spirit, and drive made our time together very meaningful; and, I garnered some extremely valuable tools that will be immensely helpful and instrumental in my continuing to make strides in completing goals in my life. I highly recommend her coaching services to anyone who is looking for some guidance in putting together the puzzle pieces of their life.

---

Dominique has an incredible ability to provide insightful steps and solutions to achieving your goal. Her coaching is a strong dose of powerful psychology mixed with intuitive listening that results in you understanding your needs and required next steps for your goals.
Recent Articles
July 12, 2021
January 27, 2021
November 2, 2020
October 20, 2020
October 7, 2020
August 14, 2020
July 31, 2020
June 9, 2020
April 17, 2020
April 1, 2020

---

Total Articles: 30
Recent Forums
---
Total Forums:
Recent Replies
---
Total Replies:
No achievements found.