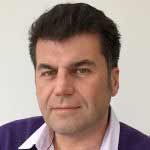 Tal Araim
Founder, Compass4Couples
The world of political correctness has been increasingly infiltrating human thinking to a point where even when we're at home with our love partners, we think far more about what is the right thing to do or say rather than freely expressing how we truly feel. This becomes an obstacle in our quest to reach a truthful meeting of the minds. We end up portraying an edited persona that can communicate maturely and amicably with our partner's corresponding edited persona. Sooner or later, this becomes taxing and what once was effortless becomes effort and with it comes doubt. I believe that doubt begins to erode the certainty of love in many relationships due to lack of awareness, not to lack of love.

This starts simply by us being human and, therefore, curious about certain thoughts and feelings as early as the first few months in a relationship. However, day to day trivial questions and thoughts are ignored because there's a stigma attached to being curious. It's seen as an admission that there is a serious issue when, in reality, many questions are nothing more than stepping stones to self awareness, clearer understanding and, ultimately, a more fulfilling love.

My journey started from a long and life changing personal experience that opened my eyes to the real meaning of love and who it should free us to be. After years of research that included many collaborations, giving seminars and workshops, and writing a book, I decided to open Compass4Couples and I wanted it to be a gym, not a hospital. Our visitors are healthy, curious and full of hope.

Along with my colleagues at Compass, we would like to make the wealth of wonderful relationship awareness out there available to all from as early as possible. We look forward to hearing from all you curious lovers out there…




---


RECENT PUBLICATION
The Coupledom Trap

Why does pleasure morph into management in the majority of relationships? Why do most of us censor and edit our true thoughts with our partners more than we do with our friends? What damage is this doing to us and to our children? Can we drastically increase the longevity of love in long-term relationships? Can we make the majority of children witness loving parents? This book explores the nature of relationships from their inception, and offers radical methods for regularly and honestly assessing the true levels of love and commitment. Love is the only reason why people should get together, stay together and, far more importantly, have children together. It is time for us to celebrate our ability to give and receive love.

---

I can't recommend this annual checkup highly enough. It's the wake up call we all need

---

Like most, we had our issues but we ignored them because they were silly. Now we realise that these silly issues are the very ones we need to talk about

---

For me 'The CoupledomTrap' is the most honest and direct approach to how we should be looking at our relationships. It not only explains the problem but Tal Araim seems to have found the cure.
Recent Articles
February 5, 2021
October 1, 2020
September 23, 2020
September 14, 2020
July 23, 2020
July 9, 2020
June 3, 2020
May 19, 2020
April 3, 2020
March 25, 2020

---

Total Articles: 18
Recent Forums
---
Total Forums:
Recent Replies
---
Total Replies:
No achievements found.