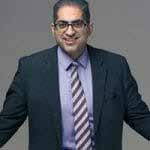 Bobby Umar
Inspirational Speaker & Coach, Raeallan
Bobby Umar is an inspirational speaker, coach, and one of the most prolific advocates of heart-based leadership in North America. Inc Magazine named him one of the Top 100 Leadership Speakers, alongside such noteworthy giants as Richard Branson, Brené Brown, John Maxwell and Robin Sharma. Bobby is a 5x TEDx speaker, and one of the top social media influencers in the world, with over half a million followers. He has been named the "2nd Best Business Coach to Follow" on Twitter and the "4th Best Leadership Influencer" according to Kred. Bobby is an author of three books, including an international #1 Best Seller.

He is also a frequent Huffington Post contributor and he is the host of a weekly tweetchat called "The Power of Connection" that has reached over 65 million impressions weekly. To date, his social media influence has garnered over 1 billion impressions. Bobby was also named a "2015 Speaker to Watch" and most recently, he was named a "Top 7 Networking Guru to Follow".

A social media advocate, who champions authentic connection and leadership, Bobby has appeared on dozens of podcasts, TV and radio shows. With a background in brand marketing (Kraft and Unilever), engineering (Bombardier) and the performing arts (Second City), Bobby has led Raeallan for over a decade and is now a recognized thought leader in networking, social media and personal branding.

He founded the DYPB – Discover Your Personal Brand conference, the largest event in North America dedicated solely to personal branding, featuring 60 experts and over 300 delegates. 100,000+ people from across the world have experienced Bobby's high-energy keynotes, interactive team-building activities, and engaging workshops.

---

Bobby connected with his audience the instant he stepped on stage. He communicates with passion and humour: straight to the point yet never allowing a dull moment.

---

Bobby's material changed my mindset about networking and my personal brand. Using his frameworks and tips for networking, I landed my dream job out of college and tripled the size of my network.

---

Bobby is an enthusiastic leader and a joy to be around!
Joined:
September 18, 2018
Recent Articles
January 21, 2019
December 14, 2018
December 4, 2018
November 20, 2018
November 9, 2018
November 1, 2018
October 23, 2018
October 16, 2018
October 10, 2018
October 1, 2018

---

Total Articles: 11
Recent Forums
---
Total Forums:
Recent Replies
---
Total Replies:
No achievements found.