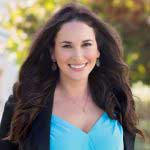 Laura Saltman
Author, Speaker, TV Host, and Spiritual Coach, Laura Saltman
Laura Saltman is an author, speaker, intuitive guidance coach, meditation teacher and TV/Digital Host who began her career in television. She is an Emmy-nominated producer and correspondent who has worked for TV shows like Access Hollywood, E! News, Today and On Air with Ryan Seacrest. She can currently be seen in segments on Lifetime TV for Designing Spaces and The Balancing Act. Her own channel on the Well World TV network recently launched. After her life was turned upside down when she lost her older brother to cancer, her father to suicide, suffered multiple miscarriages and a disrupted adoption followed by a shocking divorce, Laura turned to a spiritual life coach who helped turn her life around and manage her grief, anxiety and depression. Since then she has trained with spiritual life coaches, reiki masters, clairvoyants, mediums and meditation gurus all over the country.

Laura then channeled (literally) her energy into writing a series of three books The All of Everything, The All of the All and The All That Is aimed at helping lead others to truth by transforming their own lives through connection to our soul side. She is currently working on her next book, Wisdom of the All, a step by step guide into Love. She speaks to audiences both large and small across the country on topics ranging from the metaphysical to mindfulness and to breaking into and working with the media. Her goal is to inspire people to think better, live better and love better, especially themselves. She encourages men and women to go for their dreams and utilizes the tools of The All in her talks to engage the power within. When not speaking, writing, hosting or healing Laura shares her wisdom with her eight-year-old son.




---


RECENT PUBLICATION
The All of Everything: A Spiritual Guide to Inner World Domination

Three years ago Laura Saltman was living the Hollywood dream, working on and for national TV shows like Access Hollywood, Today and E! News as a reporter, producer and pop culture expert. Spoiled, selfish and obsessed with her career, Laura's life revolved around celebrity gossip, dissecting TV shows and interviewing celebrities on red carpets. Then something happened that changed her life forever. Laura's brother was diagnosed with terminal cancer and died one year later. Distraught, her dad committed suicide shortly thereafter and she lost two babies to miscarriage. During that difficult time, she started to assess who she was and who she wanted to be. Working with a spiritual guidance coach helped Laura cope with her overwhelming grief, as well as open up the intuitive gifts she had been hiding from the world since her early 20's. Suddenly, she went from a pop culture addicted channel changer to a spiritual channel. Some people meditate to gain inner wisdom. As a journalist, this wasn't enough for her. She needed a tangible document, a guide book, something to live by each and every day. Inspired by writers like Neale Donald Walsch and Marianne Willamson, Laura sat down for a late-night Q & A with God (Source, the Universe) to ask about the human world and how it truly works. Much to her surprise the answers came instantaneously and with astonishing clarity and consistency. Within just six weeks she had her book, "The All of Everything, A Spiritual Guide to Inner World Domination." Plastic surgery, relationships, celebrity gossip, infertility and financial struggles. No topics were off limits. Laura soon realized the answers provided weren't just to benefit her but for every human being ready to hear these powerful messages. The information provided inside the pages of this book are so simple yet life altering. They are in clear and understandable language and will help move you towards changing the way you think and act on a daily basis, so that life becomes easy and unburdened. Think of this book as your spiritual tool box. Everything you need to fix your life is inside.
Recent Articles
August 31, 2020
July 20, 2020
July 6, 2020
May 26, 2020
May 11, 2020
March 16, 2020
March 9, 2020
February 11, 2020
January 24, 2020
January 7, 2020

---

Total Articles: 13
Recent Forums
---
Total Forums:
Recent Replies
---
Total Replies:
No achievements found.